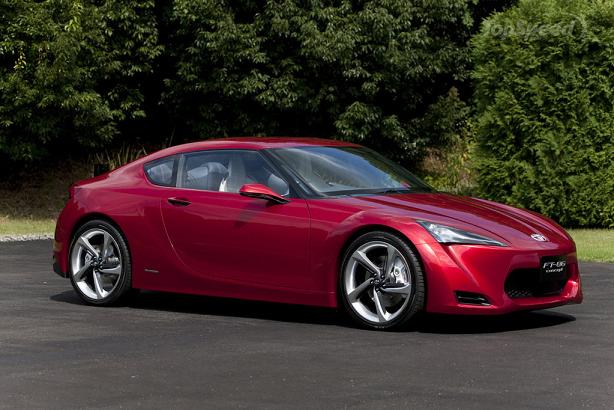 The 2013 Scion FR-S is an all-new, rear-wheel-drive sport coupe co-developed by Toyota and Subaru.
Introduction
When the Scion brand debuted in 2002, its mission was to appeal to young buyers with stylish cars boasting affordable pricing, abundant customization options and the promise of reliability backed up by the reputation of Toyota, its parent company. Largely missing from that mix, however, has been performance. Now, a decade later, all the right elements have been combined for the all-new 2013 Scion FR-S.
Co-developed with Subaru (which makes the twin of the FR-S, the Subaru BRZ), the FR-S ups the performance ante considerably above the Scion tC, the next sportiest car in the Scion family. The FR-S is powered by a 2.0-liter flat-4 ("boxer") engine good for 200 horsepower. The power is sent to the rear wheels through either a six-speed manual or a six-speed automatic transmission. Thanks to an impressively light weight of about 2,800 pounds, 200 hp is plenty of power. Light weight and compact dimensions also help the Scion deliver well-balanced agility.
The FR-S cockpit is all business. Frivolous gee-whiz features -- such as Scion's typical flashy instrument displays and adjustable mood lighting -- are nowhere to be found. Instead, the driver faces an array of instruments dominated by a large tachometer, while both front occupants are held fast by aggressively bolstered sport seats. Of course, don't expect a large measure of multipurpose practicality from the compact coupe, as the rear seat and trunk are diminutive.
Yet given its desirable qualities -- light weight and a responsive nature -- the 2013 Scion FR-S should be a thrill for driving enthusiasts looking for big kicks for small bucks. In terms of competition, the 2013 Scion FR-S has no direct rivals other than its Subaru twin. After all, affordable rear-wheel-drive sport coupes are few and far between.
Body Styles, Trim Levels, and Options
The 2013 Scion FR-S comes in a single trim level. Standard equipment includes 17-inch alloy wheels, air-conditioning, full power accessories, a height-adjustable driver seat, a tilt-and-telescoping leather-wrapped steering wheel, cruise control, Bluetooth (with streaming audio) and a Pioneer eight-speaker sound system with a CD player, HD radio, RCA output jacks, an auxiliary audio jack and USB/iPod integration.
In keeping with Scion's marketing philosophy, in lieu of factory options there are a number of dealer-installed accessories that include foglights, a premium audio system and various suspension and engine performance parts.
Powertrains and Performance
Under the FR-S's sleek hood is a 2.0-liter horizontally opposed "boxer" four-cylinder engine that makes 200 hp and 151 pound-feet of torque. Power is sent to the rear wheels through either a six-speed automatic (with paddle shifters and rev-matched downshifts) or a six-speed manual transmission.
At the test track, the FR-S sprinted to 60 mph from a standstill in 6.6 seconds, fairly quick if not as speedy as more powerful but heavier sport coupes. For the record, our testing of the Subaru BRZ resulted in a slower 0-60-mph time of 7.3 seconds, although we believe you can expect real-world performance of the two cars to be pretty much identical.
Fuel economy estimates stand at 25 mpg city/34 mpg highway and 28 mpg combined for the automatic and 22/30/25 for the manual.
Safety
Standard safety features include antilock brakes (with brake assist), traction and stability control, front-seat side airbags and full-length side curtain airbags.
In Edmunds brake testing, the 2013 Scion FR-S came to a stop from 60 mph in 117 feet, a respectable number for a sporty car with low-rolling-resistance tires, albeit with a summer tread pattern.
Interior Design and Special Features
Scion has made few concessions to style for the FR-S's simple, businesslike cabin. Dominating the interior landscape is a pair of serious sport seats. Firmly padded, their lateral support even extends up toward the shoulders, which is a reminder of this car's readiness for cornering at enthusiastic speeds. A steering wheel with a thick rim that incorporates distinct thumb reliefs further drives home this car's high-performance persona. Large instruments (with the large tachometer taking center stage), a straightforward three-knob climate control setup and a simple audio setup complete the sensible, no-frills presentation.
As you'd expect from a 2+2 sport coupe, the FR-S's cramped rear seat is best left for small children. The small trunk will accommodate just 7 cubic feet of cargo, though overall capacity can be substantially expanded by flipping down the single-piece rear seatback.
Driving Impressions
Precise, nimble and eager are the qualities that best describe the 2013 Scion FR-S's dynamic personality. Yes, the flat-4 mill needs to be revved to deliver the goods -- it flattens out a bit in the midrange -- but then pulls with enthusiasm to redline. But the FR-S is more about agility and driver involvement than challenging V8s at the stoplight drags.
The car handles with uncommon pinpoint precision, and every steering input is rewarded by immediate response. You won't find this kind of immediacy in considerably larger and heavier sport coupes. With the push of a button, the traction- and stability-control systems can be disabled to allow well-seasoned drivers to fully explore and appreciate the FR-S's exceptional athleticism on the racetrack. Meanwhile, there's enough compliance in the Scion's suspension to suit daily use. It's firm, yet won't jiggle your every appendage when you encounter broken pavement.